We are excited to welcome you to the 2020 SNaHP Summit on Saturday, February 15 at the the University of Colorado Anschutz Medical School in Aurora, Colo. (near Denver). Our theme, "Making it to the Mountaintop," means that SNaHP is moving full speed ahead into this next decade.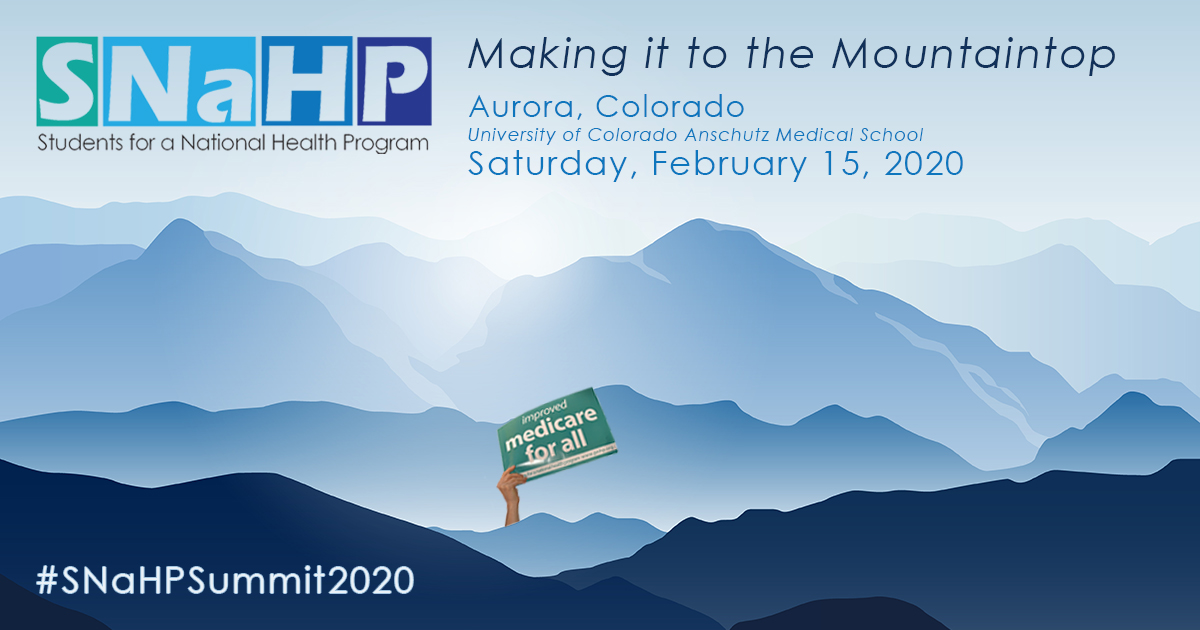 Online registration has closed, but on-site registration will be available Saturday, February 15 starting at 8:00 a.m.
Keynote
Our keynote this year is PNHP President-Elect Dr. Susan Rogers. 
Agenda
You can find the SNaHP Summit agenda HERE with the speaker's list HERE. Note that in order to save paper, we will not be providing paper copies at the Summit. Instead, you will be able to scan the QR codes with your phone at the registration desk.
Map
A map of the school can be found HERE. We will be in the Ed2 North building, with meals being served in the "bridge." We will have a light breakfast and boxed lunch available for attendees. And coffee. All the coffee.
Dress code
Come as you are. If you feel comfortable in jeans, do that. If you feel comfortable in dress slacks, do that. 
Article for non-POC meet up
We will host separate breakout sessions for POC and non-POC SNaHPers. If you plan on attending the non-POC meet-up, please read this article in advance to be fully prepared for discussion.
Out-of-town students
Students who are flying in may want to share a ride with other students. Please take a look at our ride-share spreadsheet to connect with other students and coordinate ride-sharing.
---
The scholarship window is now closed. There will be no assigned student housing this year. Instead, scholarship recipients will be given a housing stipend, which they can use at any location of their choice. The stipend will reflect general lodging prices in Aurora. Students can group up and coordinate to split housing costs using THIS spreadsheet. If you are having trouble finding a housing buddy, please reach out to organizer@pnhp.org and we can assist you.