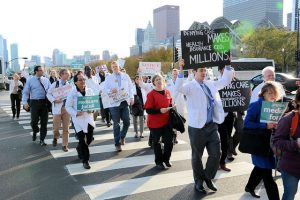 On June 8, 2019, at 1:30 PM CST, students, physicians, nurses, allied health care workers, and activists from around the country will unite in Chicago to protest the annual meeting of the American Medical Association (A.M.A.).
Representatives of a rapidly growing coalition of Medicare for All supporters, including National Nurses United, Students for a National Health Program, Physicians for a National Health Program, People's Action, Public Citizen, The Center for Popular Democracy, The Jane Addams Senior Caucus, various labor unions, teachers, activists, and more, will be taking a stand AGAINST corporate greed, misleading advertising, and the profit motive in health care.
And FOR a system that guarantees quality health care and choice of provider for all Americans, regardless of income.
The action recalls similar campaigns waged throughout the 1960s in which members of the African-American-led National Medical Association, the Medical Committee for Human Rights and the Poor People's Campaign picketed the A.M.A.'s annual meetings because of its refusal to take a stand against segregated medical services and for allowing local medical societies to discriminate against physicians and patients of color.
When we join together, we can send a powerful message to the A.M.A. and corporate medicine that we won't stop until every American is guaranteed quality medical care without going into debt or bankruptcy.
Everybody in, nobody out!
Read more about the action against the A.M.A. at https://www.wearethewaym4a.org/