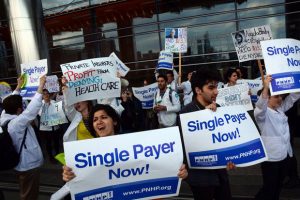 TO PARTICIPATE, FOLLOW THE LINK OR SEE BELOW!: https://docs.google.com/forms/d/e/1FAIpQLSc-g_sQHevc39ke-AZ1BBZ9E7s1ayeoinV1TpT9rWG_bS1o-A/viewform
~~SHARE WITH OTHER PROGRESSIVE GROUPS TO ELEVATE OUR COLLECTIVE VOICE~
There has been an incredible amount of momentum around protecting the Affordable Care Act and the millions who would lose health insurance should the law be repealed as promised by the incoming administration.
Students and Physicians for a National Health Program is asking you to help us demand even more!
On Friday, January 13th, 2017, we're asking SNaHP and PNHP chapters nationwide to mobilize students and physicians at their institutions for a call-in day. Our asks are simple:
1) We don't want to see our patients suffer when 30 million people lose health care coverage: We want to prevent Medicare privatization and the transformation of Medicaid into block grants
2) Even more importantly, we want equitable healthcare for everyone, in the form of single-payer: We want our congresspeople to support H.R. 676, and our senators to support the national single-payer bill Bernie Sanders will be bringing to committee
Please try to call your senators and congresspeople, and have your friends and colleagues do the same!
Find your Congressperson here: http://www.house.gov/representatives/find/
Phone numbers for members of Congress can be found here: http://www.house.gov/representatives/
Phone numbers for Senators can be found here: http://www.senate.gov/general/contact_information/senators_cfm.cfm