Featured Blog Post: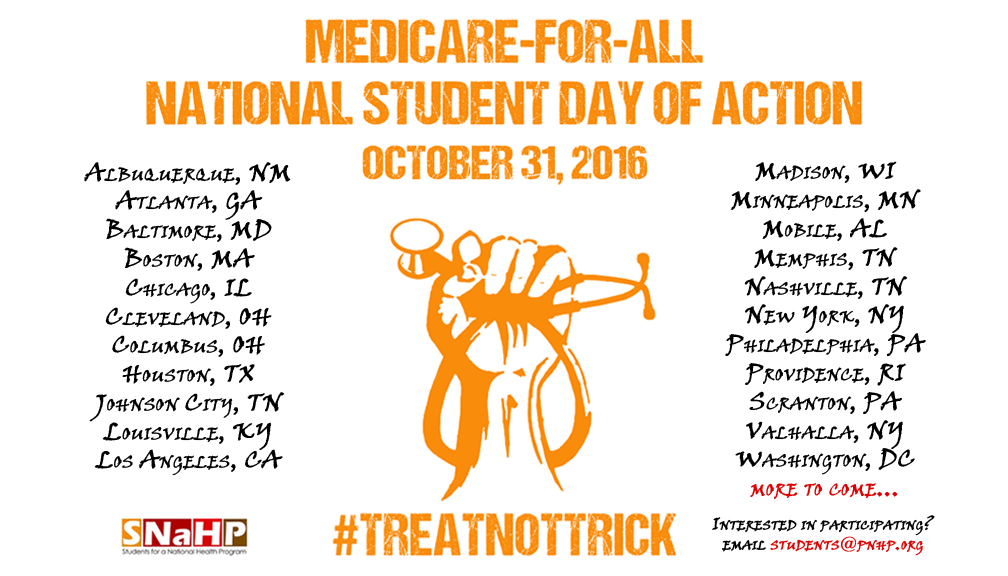 Despite living in an era of great potential in the fight against disease and death, Americans continue to be haunted by health care profiteers. This Halloween, hundreds of medical and health professional students around the country will call on candidates and elected officials to abolish private health insurance, and to replace the health insurance industry with an expanded and improved Medicare-for-all.
Our message: "Private health insurance is a trick – we just want to treat our patients."
Featured Blog Post:

"I'm going to a drag show tonight."
My third year resident asked what I was doing with my day off, and my reply, the gayest of weekend plans, gave her pause.
I felt the same awkward beat in our otherwise amiable conversation, saw the same uneasy shift in her seat, just the day before when I told her about a date I had been on. I'm not exactly inconspicuous about my sexuality in the first place, so I wasn't prepared for her to be surprised that I'm beyond-a-shadow-of-a-doubt-gay. I had felt uncomfortable for making her uncomfortable, and wasn't exactly sure why. I wondered if I was allowing some sort of personal insecurity or professional courtesy insinuate discord in a completely innocuous conversational pause. So I could have said "I'm going out" or to a bar, or something similarly vague, but I wanted to test the waters. I wanted to confirm a suspicion that it wasn't just me, and it wasn't just once.
Featured Blog Post:
Members of Students for a National Health Program (SNaHP) and medical students from across the United States are joining together to voice their support for the Physicians' Proposal for Single-Payer Health Care Reform. To learn more about this important proposal, and to learn how you can advocate for meaningful health care reform, please visit www.pnhp.org/nhi.

Featured Blog Post:
I've been a part of SNaHP since the beginning, watching our annual gathering grow from a few dozen people in a small conference room in 2012, to the massive turnout we had this spring with representatives from around the country.
Each year, I'm impressed with the reality that many of our most enthusiastic and active members are students early in their medical school journeys, many of whom haven't had much contact with patients yet. When I first began medical school, it was easy to get caught up in the praise and aggrandizement that was heaped upon us – the constant congratulations for joining a profession as well-respected and impactful as medicine. It is true that physicians can have a profound impact on the lives of our patients, curing terrible diseases and lessening the suffering caused by chronic ailments. In looking at the nature of the health care system as a whole, however, I have seen clear examples of how access is rationed based on a patient's financial resources, and how seeking health care can leave patients vulnerable to harm that affects their livelihoods and economic security.
Latest News:
In light of the media's recent attention to single payer healthcare and the release of Bernie Sanders' proposed plan, Students for a National Health Program (SNaHP) would like to rectify public misconceptions of and clarify our stance on Medicare-for-All.
Click here to continue reading