Featured Blog Post: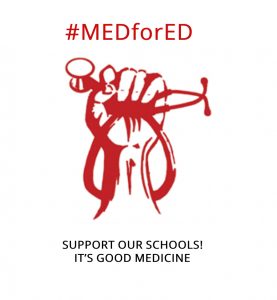 Students for a National Health Program, Health Care for All NC and other national and state single-payer organizations will march alongside North Carolina teachers as they rally for respect this Wednesday, May 16 in Raleigh, North Carolina.
One of the primary issues affecting public teachers across the country has been the rising cost of their health coverage. West Virginia educators recently underscored the connection between jobs and health when they initiated a massive walk-out and demanded action over their increasingly expensive, yet meager, healthcare coverage.
"It's the insurance," confirmed one of the striking teachers. "That's the big deal."
In North Carolina, health insurance premiums are skyrocketing for all of us and our teachers pay an outrageous average of $10,000 a year to cover their families.
As healthcare professionals and advocates fighting for a universal, single-payer health system, we believe the purpose of both healthcare and public education is to serve the common good of the community, not the bottom lines of corporations.
Click here to continue reading.
Featured Blog Post:
This article was originally published by The Advocate. You can read the original article here.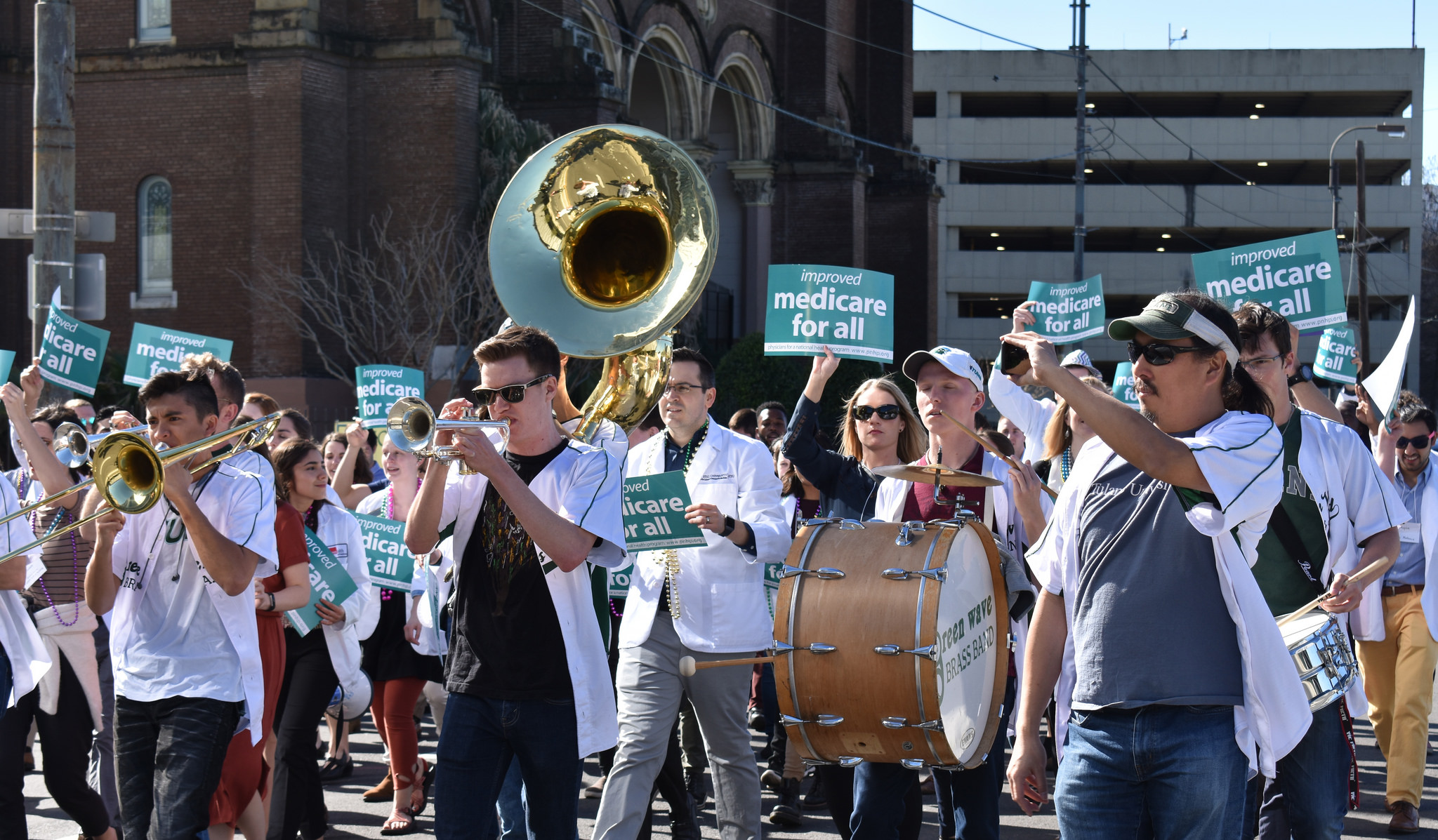 As a medical student, you never forget the first time a patient says, "Thank you for your help, but I can't afford it." It's the one sentence that could stop any treatment plan, regardless of the potential benefits.
Medical textbooks aid in the diagnosis and treatment of patients, but they fail to tell us how to help a patient who cannot afford care. Like millions of Americans, many of our patients leave clinics with a choice between addressing their critical health needs or paying for basic necessities. As medical students and future physicians, we cannot ignore the system that denies our patients access to the care they need and deserve.
Over the course of history — from the Greensboro sit-ins of the 1960s civil rights movement to today's high school students leading the fight for stricter gun regulations — students have been powerful agents of social and political change.
Click here to continue reading.
Featured Blog Post: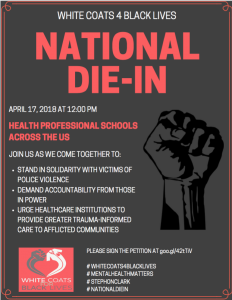 Dear current and future healthcare providers,
Hope this message finds you well. Many of us are still mourning the tragic death of Stephon Clark, 22-year-old unarmed black man shot and killed by the police in his grandmother's backyard. This event is tragic and unacceptable, and yet the story is all-too familiar. Stephon Clark joins an ever-growing litany of black lives ended by police violence. The White House thinks this is a "local matter", but we disagree. This is a national public health crisis.
We are calling on all medical and nursing schools across the nation to join us on April 17th, 2018 at 12pm as we hold a National White Coats for Black Lives die-in demonstration.
Click here to continue reading.
Featured Blog Post:
This article originally appeared in Winston-Salem Journal. You can read the original post here.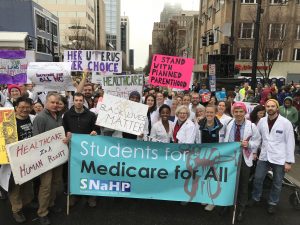 For more than 100 years, Americans have searched for a cure for health care inequality. Instead, we've been prescribed placebos: watered-down poverty programs and party politics.
Despite attempts to ease the pain with reforms like Medicaid and the Affordable Care Act (ACA), we continue to rely on a market-driven health care system. After stitching together the remnants of various poverty programs we are left with a system so dysfunctional and freakish it would make Dr. Frankenstein recoil.
After signing the Health Reinsurance Act—the result of a contentious battle for a national health program that was ultimately foiled by the American Medical Association—Republican President Dwight Eisenhower handed the pen to Esther Lape, a social scientist and longtime universal health care advocate. Disappointed that the bill fell far short of her expectations, Lape reportedly waved the souvenir in the air and declared, "This represents a puny little bone in the vertebrae of what I had in mind!"
What Lape envisioned would be transformative: quality health care for everyone.
Click here to continue reading.
Featured Blog Post:
This article originally appeared in The Pulse. You can read the original post here.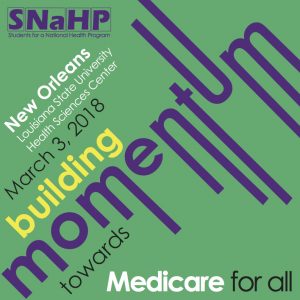 On Saturday March 3, 2018, the Louisiana State University Health Science Center chapter of Students for a National Health Program (SNaHP) will host the 7th annual SNaHP Summit from 9:00 a.m. to 7:00 p.m. in New Orleans, Louisiana. The annual summit is a one-day event that gathers students from multiple disciplines to learn about what a national health program would look like in the United States, and how to think about and advocate for beneficial change in our healthcare system. Attendees network with students from all over the U.S., learn how to talk about health policy, and contribute to national strategy for single-payer advocacy. Dr. Steffie Woolhandler, MD, MPH, FACP, co-founder of Physicians for a National Health Program (PNHP), is a graduate of LSUHSC School of Medicine, and will be speaking at the summit.
Click here to continue reading.
Featured Blog Post:
This article originally appeared on Common Dreams. You can read the original post here.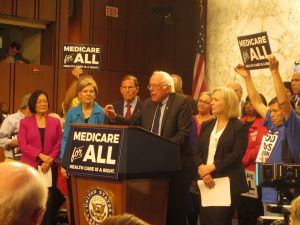 In the face of a fiercely conservative administration, 2017 has seen an upsurge in popular resistance against measures that threatened to chip away at important–if imperfect–social welfare initiatives, chief among them the ability for Americans to receive quality healthcare.
Activists pushed back against a series of attempts by Republican lawmakers to repeal and replace the Affordable Care Act (ACA) with bills that the Congressional Budget Office estimated would have led to the loss of health coverage for 22 to 23 million Americans.
While it is tempting to remain on the defensive in the face of an agenda that would rob us of our healthcare, citizen activists across the country recognize that merely protecting the ACA would continue to leave the most marginalized populations in this country behind. While many Americans continue to receive health coverage under the ACA, an estimated 28 million remain uninsured and medical bills continue to be the leading cause of bankruptcy in the United States.
According to a national survey conducted by the Pew Research Center, 60 percent of the population believe that the federal government has a responsibility to provide health coverage for all Americans. Despite continued assertions that universal healthcare in the United States is merely a liberal "pipe dream," a Medicare-for-All health program–a healthcare insurance system that is government-run–remains the best option for ensuring that all Americans have access to quality healthcare.
Click here to continue reading.
Featured Blog Post: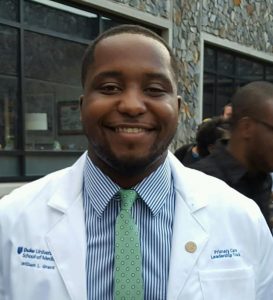 SNaHP Shots is a regular column featuring interviews with SNaHP members from around the country who are committed to passing universal healthcare legislation in their lifetimes.
Where are you from? Where do you attend medical school?
I am a second-year student at Duke University School of Medicine in the Primary Care Leadership Track in Durham, NC. I am originally from Gainesville, FL, and graduated from Morehouse College. While I haven't decided on a specialty, I hope to provide care in an under-resourced community.
Despite your busy schedule as a medical student, why have you decided to devote your time and energy to the movement for universal healthcare?
I see my role as a medical student and advocate for universal healthcare as being undeniably intertwined. I chose to attend medical school not only to help and treat patients, but to use my platform as a future physician to advocate for social-political change and this of course includes the movement for universal, comprehensive care.
Click here to continue reading.
Featured Blog Post: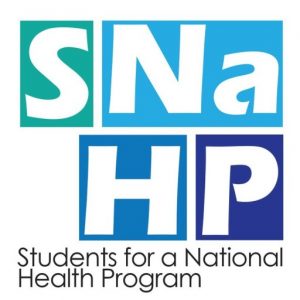 Health policy discussions, and the voices within them, are often minimally affected by the very crises they seek to address. It is a privilege to critique policy, yet the finer points of saving lives are secondary to the actual saving part. When faced with a health crisis—a present day example being where thousands of Americans die from lack of health insurance—it is not common that a solution, one established in evidence and efficiency, is readily available. As explained in a recent STAT article, we recognize a solution in an improved Medicare for all health system. Medicare has saved lives. Punditry and pontification have not.
Click here to continue reading.
Featured Blog Post:
This article originally appeared on STATNews.com. You can read the original post here.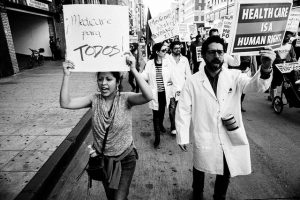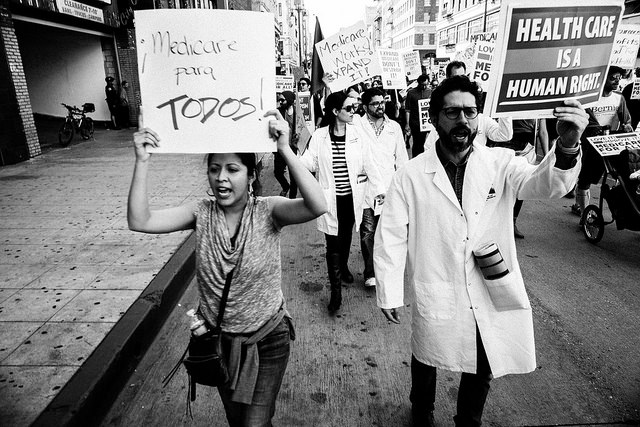 Underneath a heap of hospital blankets, Stephen seemed small for a 7-year-old. His chest rose and fell rapidly, a frightening rhythm given his history of asthma. His parents stood nearby as veteran witnesses — Stephen had been admitted to a Cleveland safety net hospital for asthma four times already this year — but familiarity offers little comfort when your child struggles to breathe. When asked if their son used his asthma inhalers, they replied, "It depends. When we can afford them, he takes them. But when we can't, it could be a few weeks."
Stephen represents one of more than 430,000 hospitalizations each year due to asthma. At a cost of $56 billion annually, complications from asthma can be prevented with regular medications (inhalers), avoidance of triggers like dust and mold, and access to health care, which usually means access to health insurance. Stephen didn't have the latter.
Click here to continue reading.
Featured Blog Post: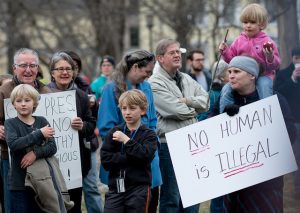 The Trump administration's recent announcement to end the Deferred Action for Childhood Arrivals (DACA) program instilled fear and outrage in communities across the country. As a medical student with friends and classmates with DACA status, I am particularly disappointed in the poor and compassionless judgment of our nation's leader. I fear for my peers who have worked incredibly hard and overcome the most daunting of obstacles to get where they are today, and who now could see it all taken away from them. Their now tenuous situation is unimaginable to me. But I also fear the impact of this decision on my non-DACA classmates, on our training, and on our futures. There is certainly a moral case to keep DACA alive, but the effects of its repeal on the healthcare system writ large make apparent that it's also a bad idea for all Americans.
Click here to continue reading.
Featured Blog Post:
This article originally appeared on KevinMD.com. You can read the original post here.
As Sen. Bernie Sanders prepares to introduce a universal health care bill in the next few weeks, many progressives who support a universal single-payer program worry about its effects on abortion access. Can we win Medicare-for-all while protecting hard-won reproductive rights? As a woman of color, a reproductive rights advocate, and graduate student of public health, I recognize the importance for marginalized groups to stand in solidarity for progress to happen. I urge single-payer advocates to push to repeal the Hyde Amendment as part of our fight for truly universal health care.
Click here to continue reading.