2017 Summit
Date: March 11, 2017
Location: Lewis Katz School of Medicine at Temple University in Philadelphia, PA
Theme: From the Streets to the Hill
Keynote Speaker: Nijmie Dzurinko of Put People First! PA
See photos from the 2017 summit here!
2016 Summit
Date: March 5, 2016
Location: Vanderbilt University Medical Campus in Nashville, TN
Theme: New Frontiers for the Civil Rights Movement
Keynote Speaker: Stephen Raffanti, M.D.
See photos from the 2016 summit here!
2015 Summit
Date: February 14, 2015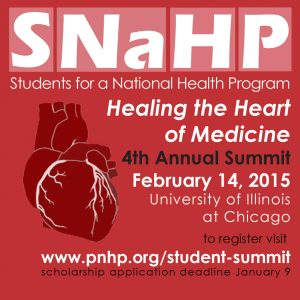 Location: UIC College of Medicine in Chicago, IL
Theme: Healing the Heart of Medicine
Keynote Speaker: Linda Rae Murray, M.D., M.P.H.
Summit photos:
https://www.flickr.com/photos/pnhp_national/albums/72157650851697491